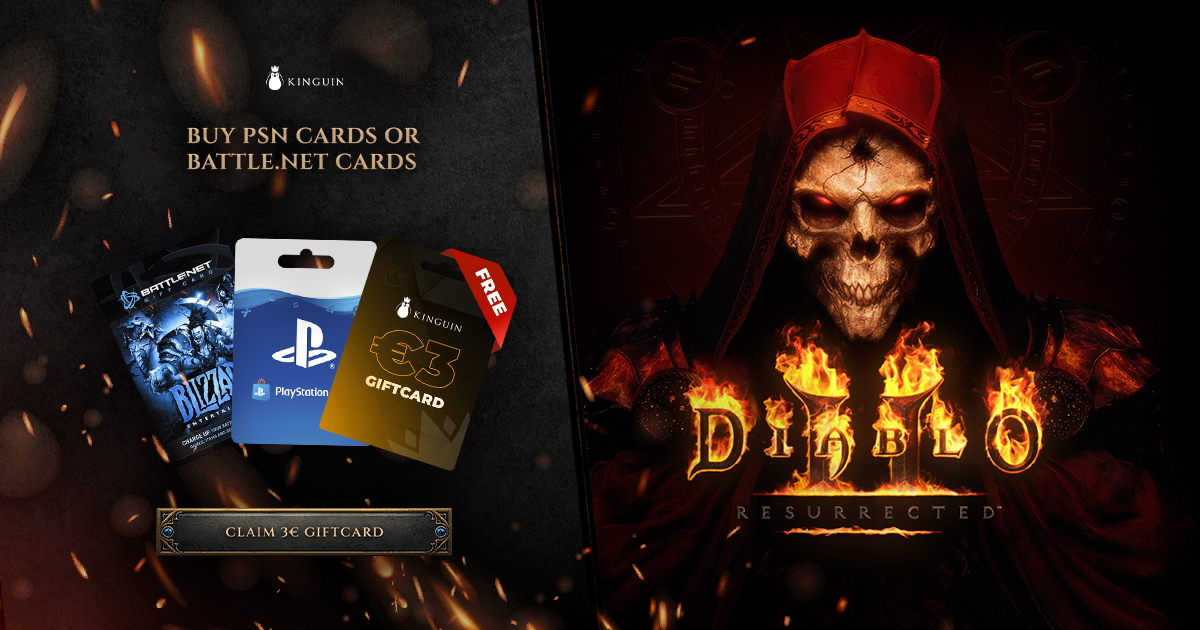 "Diablo 2: Resurrected" Promotion Terms and Conditions

1. These terms and conditions define the rules for participation in an online promotion "Diablo 2: Resurrected release" (the "Promotion").
2. The Promotion is available globally.
3. The Promotion is organized by Kinguin Digital Limited with its registered seat in 8/F On Hing Building 1 On Hing Terrace, Central Hong Kong ("Kinguin").
4. The Promotion shall start on September 20th, 2021 at 12:00 CET and shall terminate on September 26th, 2021 at 12:00 CET (the "Promotion Period").
5. The Promotion is not open to employees and contractors of Kinguin or Kinguin's associated entities' employees and contractors or members of their families, which include spouses, grandparents, parents, children and grandchildren, whether by marriage, past marriages or adoption or other family extensions.
6. No redemption, promo or discounts codes can be used when making a pre-order purchase for Diablo 2: Resurrected product.
7. During the Promotion Period, for a purchase of the Battle.net gift card and PlayStation Network Card products made on https:kinguin.net/ (the "Website"), each Kinguin's customer ("Customer") will receive a 3 euro Kinguin gift card redeemable at the Website (the "Gift Card").
8. Each Customer may participate only once in the Promotion and will receive one Gift Card.
9. In order to receive the Gift Card:
a) the value of the Customer shoping cart must be at least 40 euro or its equivalent in local currency;
c) the Customer needs to be at least 18 years old.
10. All Kinguin Gift Cards shall be funded by Kinguin.
11. The Kinguin Gift Card cannot be exchanged for the equivalent in cash, or prizes of another kind.
12. The Gift Card will be sent to the Customer via email after making the purchase of the Battle.net gift cards and PlayStations Network Cards under the conditions specified in point 7 above.
13. Kinguin reserves the right to remove the Customer from the Promotion, in case of a doubt as to the veracity of his profile or in case of any breach by the Customer of these Terms and Conditions or any rights of third parties.
14. To the fullest extent permitted by the law, Kinguin shall not be liable for any third party's performance that may take place in connection with the Promotion.
15. Kinguin reserves the right to suspend, change or cancel this Promotion for any reason at any time.
16. Kinguin shall have the right, at its sole discretion and at any time, to change or modify these Terms and Conditions, such change shall be effective immediately upon posting on the Website.
17. In relation to the Promotion Kinguin Digital Limited is a personal data controller (the "Controller") whose contact details are as follows: gdpr@kinguin.io. Personal data of the Customer is processed in order to:
a) allow the participation in the Promotion;
b) verify if the Customer meets the requirements of the Promotion;
c) communicate with the Customer;
d) provide the Kinguin Gift Card to the Customer;
e) in connection with the legitimate interest pursued by the Controller, namely selling and marketing of its own products and services.
18. Personal data will be processed by the Controller during the implementation of the above goals. Providing such personal data is voluntary but it is also a requirement necessary to enter into the Promotion.
19. The personal data will not be processed in an automated way.
20. Each Customer participating in the Promotion has the right to request the access to and rectification or erasure of personal data or restriction of processing concerning the data subject or to object to processing or to raise an objection before applicable authorities in relation to such processing.
21. Unless stated otherwise in the relevant regulation or laws each winner is solely responsible for reporting and paying any and all applicable taxes related to the Kinguin Gift Card.
22. These Terms and Conditions are governed by the laws of Hong Kong. Any disputes shall be brought to the courts of Hong Kong